Vietnam 2015 Tour
"Just wanted to send a note of appreciation for the great trip to Vietnam. Mr. John Dewing did a great job with us. I was very impressed with the country. When I left there 45 years ago it was a primitive, war torn and desperate country. It appears to be on it's way to becoming a prosperous nation. Friendly people. Beautiful country, beaches and mountains. I was especially impressed with the hotels and meals arranged." Lee Terry


Small group participate in the 70th Anniversary of the liberation of Corregidor by the 503rd PRCT ceremony, flag raising.



Vietnam tour group of Veterans and Students in front of the Hanoi Hilton, September 2014



August 2014 group on the WWI Centennial Series - First Battle of the Marne tour



Oct. 20, 2014 at the Leyte Landing Day Ceremony, Tacloban, Philippines
Fay and Virgil (Bub) Simmons, Dwain Bell, and Steve. Bub and Dwain landed on Leyte on the 20th. Bub was in demolition and was wounded here. Dwain was in the engineering corps and helped build a bridge and lay ten miles of road from Dulag northward.



NEWS FLASH
Having retired from Valor Tours eight years ago, Bob Reynolds returns to Guadalcanal in August 2014.
From left: Historian John Innes, Bob Reynolds, Betty Reynolds, Jim Maxson, John Shively, Blythe Shively, Diane Basilone Hawkins (niece of John Basilone) and Kent Knudson.





Secretary of State John Kerry meets with Marine Raider Veterans John Odgers and Chuck Meacham at the Memorial during one of our two tours to Guadalcanal in August 2014.

Group standing on Mount Austen, Guadalcanal 2014.



The Eighteen who cruised the Solomons aboard the Bilikiki from May 6 to May 13, 2014 and Jack Duncan, PT Boater, WWII Veteran.




D-DAY GROUP - 2014


"Thank you so much for including us in your Valor D-Day tour. We had the Trip of a Lifetime. Clair and I thoroughly enjoyed every bit of it. George Cressman was so good. The people were all so compatable. We would highly recommend Valor Tours." Martha Shannon and Clair Martin (29th Infantry Division, first wave Omaha Beach, D-Day)



VIETNAM GROUP - 2014


"We thoroughly enjoyed the tour of Vietnam...it is something I've wanted to do for well over ten years and I'm glad I finally committed. I also want to let you know that John (Dewing) truly did an outstanding job...a real host! He is very knowledgeable of the war and doesn't mind answering questions. I enjoyed being with him and the entire group." Barron Harbin, U.S. Navy, Vietnam


At the Kasserine Memorial, Tunis, May 2014

Group at Monte Cassino, June 2014



Ghost Soldiers tour group at the Hellships Memorial 2014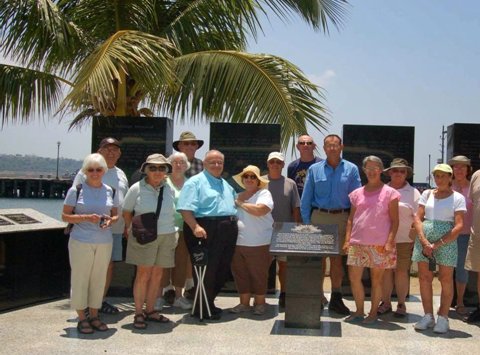 Coast Defense Study Group on Corregidor, Philippines - February 2014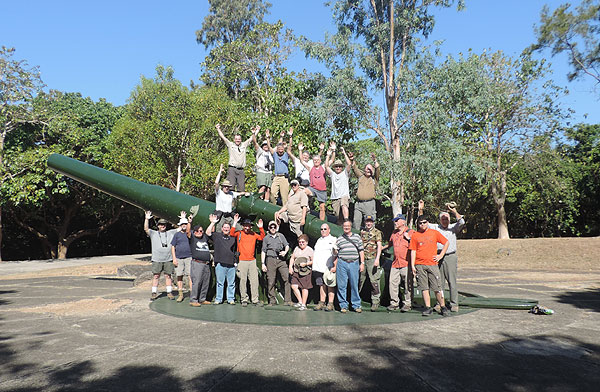 70th Anniversary Operation Galvanic tour to Tarawa (2013)
"Jim and I thoroughly enjoyed our trip with your group and meeting our fellow travellers. We all got on very well and enjoyed each other's company."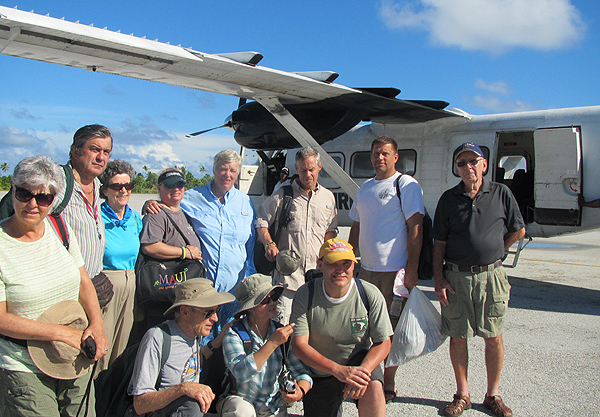 "Just back from a fabulous trip and wanted to congratulate you all for a well planned and educational trip." - Jack Kavanagh – October 2013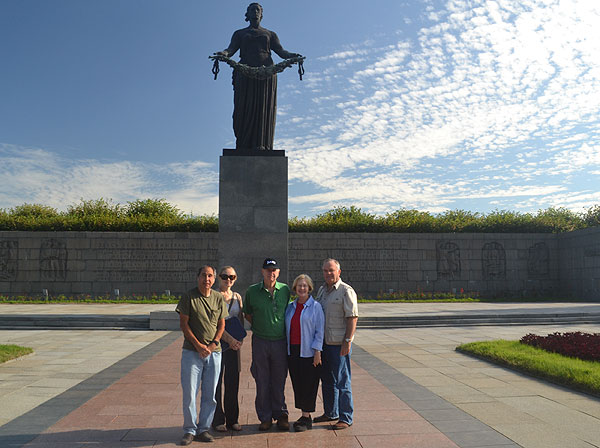 (Click here for more info.)
Korean War Veterans tour to So. Korea – October 2013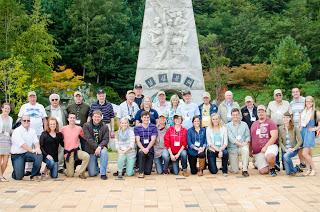 "I have returned from Korea safe, sound and most satisfied! Thank you for the outstanding service you provided. This was one of the best tours I've ever been on and your choice of venues was far better than I expected. I hope I'll again have the pleasure of using your services." - Jeff Tremblay, U.S. Air Force


(below:)Return to Guadalcanal group 2013 at Coastwatchers Memorial and Colette Frayne paying tribute to her Dad who served with the 1st Marine Division
*Comments from a passenger:
"...it was all memorable for me. A great tour. Great guides, great participants...a wonderful, informative tour at a reasonable price..."
"...(most memorable part of the tour) the hike in the jungle to John Basilone's fox hole...John Innes is absolutely amazing..."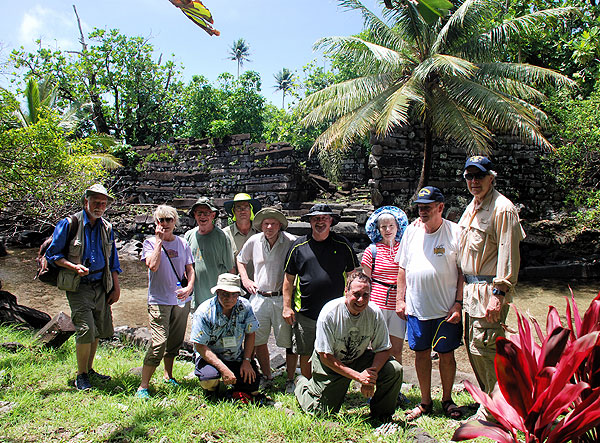 Central Pacific tour group at Nan Madol, Pohnpei, June 2013


(below:)70th Anniversary Aleutian Islands "The Forgotten Front" group at newly installed panels at
Attu (left) and at the dock (right), June 2013.
Read John Cloe's blog about this trip.



D-Day 2013 group at Pt du Hoc.
Photo by Rudy Chavez.



Battle of the Bulge/Eagle's Nest tour group at Eagle's Nest,
June 2013. Photo by Nancy Harste.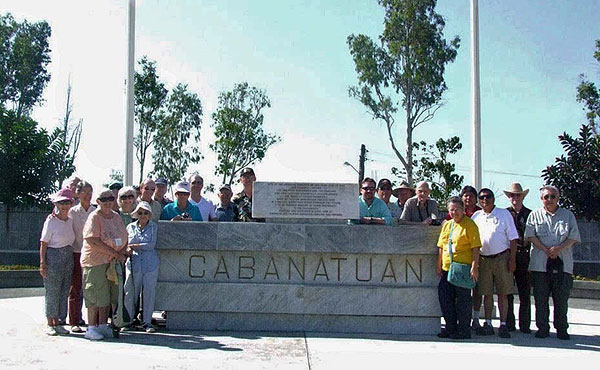 April 2013 - our group at the Cabanatuan POW camp site memorial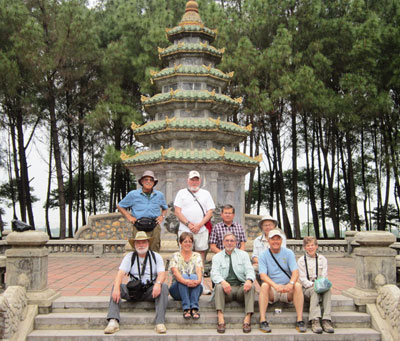 2013 Vietnam/Laos group at Thien Mu Pagoda in Hue City. Photo by Jere Hagen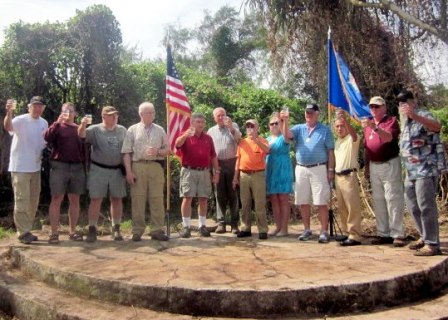 Members of the Valor Tour group offer a toast in honor of the 6th Bomb Group.
"By sheer coincidence, two former World War II enemies converged on Tinian to honor their war dead: Valor Tours honoring the American service members who served on Tinian during WWII and a Japanese group paying last respects to their fellow Japanese who died on island." [Read more.] - Marianas Variety, March 19, 2013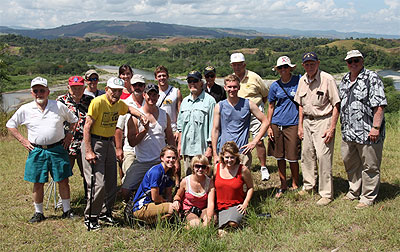 Just back from the Solomons (2012) : We are safely back home, tired, but still feeling a warm glow about our trip. It was excellent from beginning to end. Andy Giles was a good tour leader and related well to the veterans and students. The Bilikiki staff were very gracious and accommodating and the food was superb! I would go back and do this trip again in a heartbeat. - Fred Mullinax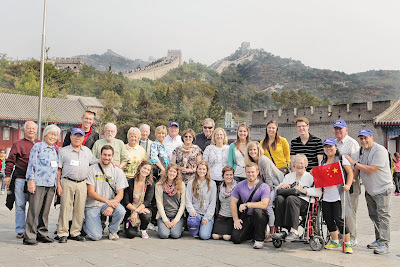 For two weeks students accompanied WWII Veterans who served in China just after the close of WWII. They were joined by Charlie Tsui, who was adopted by the marines as a young boy in the 1940's. This blog follows their journey. http://cofochina.blogspot.com/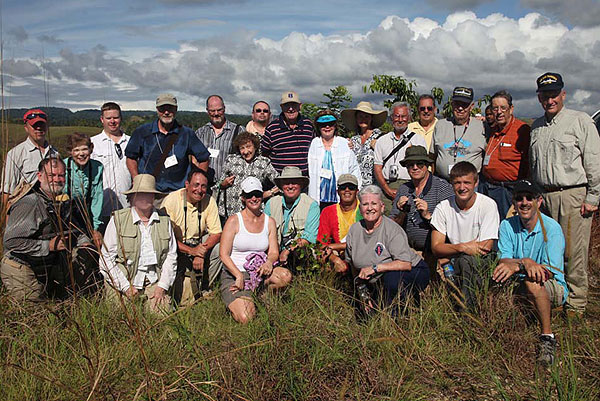 Guadalcanal 2012 tour group at Edson's Ridge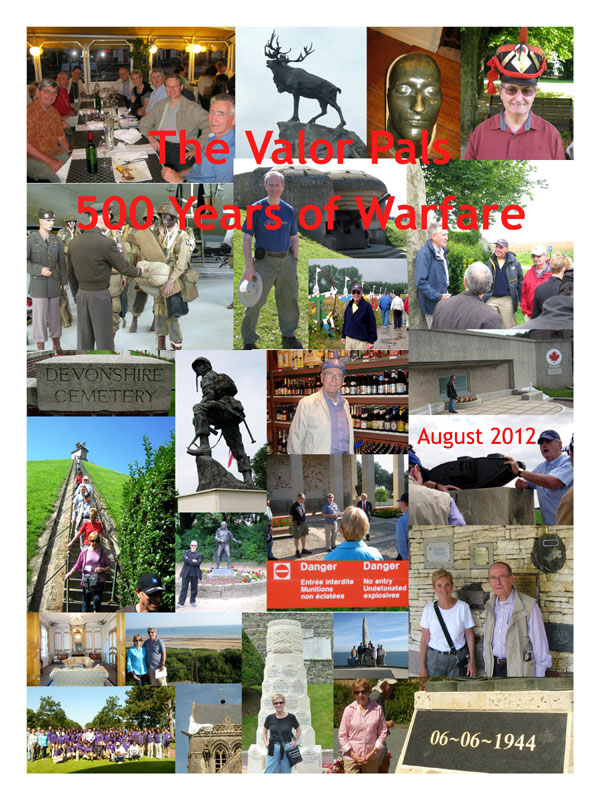 Our first "500 Years of Warfare" tour, August 2012. Great trip ... great group.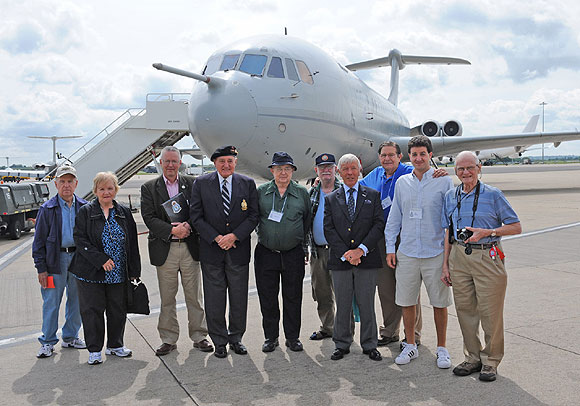 June 2012 Bomber Command tour with Bob Reynolds (fourth from left)
at Bob's old WWII base in England.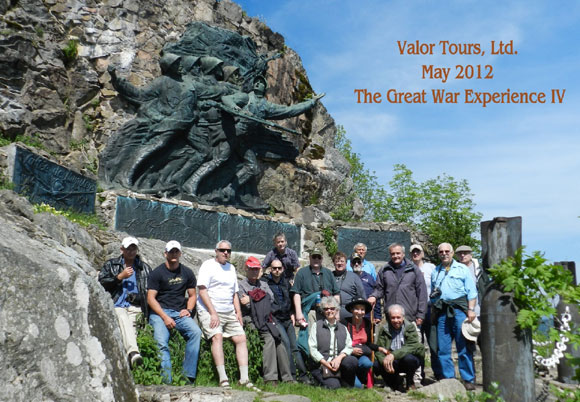 Great War Experience - May 2012

Trip across Iron Bottom Sound to Tulagi (video)
WWII Sicily and Italy group at the 82nd Airborne Memorial at Ponte Drillo, Sicily.
Group in front of Peace Bell at San Angelo, Cassino, May 2012

Our group at the Pacific War Memorial on Corregidor to commemorate the 70th Anniversary of the Fall of Corregidor.

On board our Solomon Islands cruise up "The Slot" May 2012
"Can't say enough about the total trip quality...Andy Giles did an outstanding job of guiding us at every step...I want to thank Valor Tours for putting this trip together. Most memorable part of the trip was stepping on Puvuvu after 67 years."
- Bill Kruschel, U.S. Navy Corpsman with the 1st Marine Division, WWII



March 2012 group at Ho Chi Minh's Tomb, Hanoi

Our Ghost Soldiers of Bataan group at the American cemetery, Manila
on April 5, 2012. Includes students from the College of the Ozarks.
For more information, click here.
video Tribute on Bill West taken during our August 2011 tour to Guadalcanal

70th Anniversary Attack on Pearl Harbor commemoration group at Bellows Air Station
on the beach where the Japanese mini-sub washed ashore. December 2011.

Oscar (POW) and Mary Leonard meet with Filipino Veterans at the Fall of Bataan ceremony on April 9, 2011 at Mt. Samat Bataan along with our group of 20 passengers.



"I truly feel that I was meant to be on this trip. Visiting all of the sites where (my brother) had been has helped in putting all of the puzzle pieces together....I'm truly grateful that I was there at this time. Now I know so much more about (my brother) and his experience fighting the war and defending Manila Bay, as well as his time as a POW." - Grace Adams

Italian Front WWI tour group at Caporetto: Northern Breakthrough - July 2011



Four Veterans attending the 67th Anniversary D-Day Normandy Invasion tour, taken at Saint Mere Eglise, France: Bob Reynolds, 89, 101st Squadron RAF Bomber Command; Morrie Nelson, 91, H Co., 11th Infantry Regt, 5th Infantry Division; Walter Dietz, 94, 82nd Airborne Division; George Newkirk, 89, 224th Fighter Group, USMC. - Taken by Greg Nelson.



"Excellent driver...enjoyed the beaches, the history and most of all the museums. We were fortunate in our traveling companions and leaders. We most certainly will recommend this tour!" - Pat and George Newkirk


Valor Tours 2011 Western Front Tour Group at the British Memorial to the Fallen, Ploegsteert Wood, Ypres Salient, Belgium



GUADALCANAL 2010 GROUP on Edson's Ridge







---

Capt Wilbur Jones (tour leader) second from right and other tour members on Omaha Beach, June 2010, D-Day tour.
"...This tour really drove home the true cost of freedom. It was a delightful experience to talk to Bob Reynolds. His experiences in WWII added greatly to the tour."
- Joe Grafton
"...Both hotels (D-Day tour) had great locations, particularly hotel in Normandy...fantastic! Great set up for time on Omaha Beach, great food, hospitality and wonderful place to sit with the group before dinner....What an amazing trip."
- Shawn Bury




"...I had an amazing time on the 65th Anniversary Okinawa tour. Could not ask for better guides....It was really something walking the same ground my Grandfather fought on 65 years ago, and to finally see the places he told me stories about. The tour fulfilled my childhood dream of visiting the battlefields of my Grandfather. I learned so much from the other WWII Vets throughout the course of the trip. Thank you for an amazing experience."
- Bryan Stefancyk, Okinawa 65th Anniversary June 2010 tour




WWII Veteran Ken Dolan, retracing his steps 65th years later on Okinawa




"...our trip was a resounding success in every respect. Thank you so much for all that you did in your re-arrangements to accommodate my needs to go back to old familiar spots. Our time in Normandy was magnificent. Southern France and Alsace were great as was the weather and the company. (My grandson) and I enjoyed our tour companions very much. Our driver was marvelous and Wilbur Jones (tour leader) was the best."
- Wilbur Mattison, 7th Army, WWII Europe (2nd from right)




Operation Market Garden 2010 tour group




Thank you for all you do for the veterans and their families.Your organization furnishes a most important service in providing opportunities for these interested people to travel to military sites. You help to keep history alive.
Wendall and Jean Clift81st "Wildcat" Infantry, Peleliu




Our tour group's visit to the Philippines makes the newspapers in 2009



"My husband Col. Kenneth Harrell and I were on your 60TH Anniversary tour to Peleliu with Mr. Giles. It was a highlight for Ken who had been badly wounded in the Battle for Peleliu. We often talked about the amazing time we had and the wonderful people we met, the Rock Islands, the boat trip to Peleliu, the feast given by the people of Peleliu, etc. Ken died on July 23, 2009 and I want to tell you how much your tour meant to us both.... Thank you for some wonderful memories."
Jill McNichol-Harrell


Read Our Valor Tours Blog
Postings by our tour guides and those who have enjoyed our tours. We welcome your comments.

Read an interesting article about Bob Reynolds
"Americans shamed into Pacific war tribute: hero wins battle for Guadalcanal memorial to Marines"(1992).

I was on the 2007 trip to Normandy with my two sons, it was the best trip we ever took together. Thank you once again. I just wanted to let you know that by some coincidence I happened to be up early on Saturday June 6th and was watching all of the proceeding taking place at Omaha beach live on Fox News and who do I see???... Bob Reynolds. I was quite surprised. Well I hope I look that good at 88.


David Gilkeson, Normandy, 2007





Standing on top of Mt. Suribachi, Iwo Jima
"What a wonderful time we had on our World War II Pacific tour. Andy Giles did a superb job as our tour leader. His knowledge of what went on in the Pacific is incredible! The memories we have of the trip will be something we will cherish forever. And we certainly want to do another trip with you soon."
Don & John Mc Neill, World War II Pacific tour, 2009





"Superb accommodations. Guide and driver very friendly and knowledgeable. Most meaningful event was finding my cousin's name on the MIA Wall at the American Cemetery in Manila. Great tour. I would love to travel with that group again."
Kathleen Smith, Ghost Soldiers of Bataan tour, 2009





Letter from Bob Reynolds to ADBC Convention (click to read full letter)


"The tour was great! Mike Hanlon is extremely knowledgeable. The coverage of the battles was comprehensive and we saw a lot of interesting battlefields, cemeteries and monuments. I would unqualifiedly recommend this tour to any of my friends."
Jackie Moton, WWI Tour, 2008





2008 WWI group at Verdun Museum with Honor Guard


"Thanks for your professionalism and can do attitude. I would recommend Valor Tours!"
Jim Robinson, Operation Galvanic tour to Tarawa, 2008



"You should be very proud of the wonderful opportunities you provide for veterans, their families and history buffs. Keep up the great work."
Art and Dorothy Marske, AWON tour to the Philippines 2008




All frequent participants on Valor Tours, from l. to r.: Fred Guyer, Glenn Frizzell, Ron Real and John Eckersley, at Midway, June 2007. (Fred has been on 22 tours in 22 years.)





WWII Veterans attend Anniversary Ceremony on Iwo Jima, March 2007.


WWII Veterans with local officials at American Memorial, Guadacanal, August 2006

"We've been on dozens of foreign trips, but none were better organized or run than this one (Return to Guadalcanal 2006). It was much better than we expected... we were consantly amazed at the extent of [the tour leader's] knowledge of Guadalcanal and of the WWII actions that occurred there. You've got a great team!"
Gil Jensen


"... The tour (Ghost Soldiers of Bataan, April 2003) was extremely well planned and the size of the group allowed us to include activities which made the tour even more exceptional. All in all, it was a wonderful tour which included lots of history, much local color, very interesting people, and many, many treasured memories."
Peg Skelly


"... I wish to reiterate my feeling that our 2003 Twelve O'Clock High tour (to Europe) was a most enjoyable experience. I continue to express my feelings to my friends and associates... we covered a great deal during our trip... our driver deserves special praise... Thanks again for a really great experience."
John Mahoney



Wendall Clift, 81st Infantry, and Bob Reynolds on Guam, November 1999 (Photo by Clift)
"…It was 55 years ago that Wendall fought at Peleliu. This was a trip back in time for him under peaceful conditions. I had had a great desire for many years, to visit that island - to see the war remnants which remain as grim reminders of the sacrifice and bravery of our servicemen during that terrible struggle. This trip will long remain vividly in my memory. I'm glad we were able to share it together."
Wendall & Jean Clift, Laurel, FL- Return to Peleliu 2000
"We had a wonderful time...was the best organized and most closely focused tour...ever been on."
Mary Brubaker (daughter of Gen. Simon Bruckner), Oregon
U.S. Army tour to Okinawa, 2000
"Thanks (Bob Reynolds), for the wonderful opportunity of our trip to Normandy and.. to hear your stories and the stories of my father and other veterans on the trip."
Diane Moy (Saudi Arabia)
D-Day Normandy Invasion tour, 2000
"(the feature I enjoyed most was) visiting with those who had been there- both the Veterans and civilians. Experiencing the hospitality and fellowship with Belgians and people of Luxembourg..."
James Power, Memphis, TN, 55th Armored Infantry Bat.
Battle of the Bulge tour, 2000
"...We waited a long time to find the right tour, and you had the only one and naturally the best. It was more than just the best, it was perfect. There were some great memories on the tour..."
Frank Dillon, Palm Desert, CA
D-Day 55th Anniversary tour, 1999
"The beaches, museums and cemeteries we visited, as well as the battle areas, gave us a most thorough exposure to what happened in the invasion of 1944. You know how to bring people together and make them comfortable. "
Douglas and Marjorie Witt - D-Day Normandy 55th Anniversary, 1999

Museum at Utah Beach, Normandy, June 1999
(Photo by Valor Tours)
"…(We enjoyed) hiking the trails of Corregidor…exploring the tunnels…and the sharing of experiences of those who had been there at the time of the war."
Don and Barbara Challman, Shoreview, MN

"...we enjoyed our tour with you to Corregidor and Bataan. I really understand so much more of what my husband went through. I felt as I hiked the trails that I was walking over his footsteps..."
Hazel Campbell, Yuma, AZ- General Wainwright Memorial tour, 1999



Dedication of new Wainwright Memorial on Corregidor, May 1999 (Photo by Valor Tours)



Group preparing to take off on you chartered twin-engine Donier to explore WWII relics in the Marshall Islands.
(Photo by Mace Coleman)
"…(I enjoyed) my return to my old ship or what was left of it - USS LST 342 - and standing on the rusty deck, and thinking back 55 years to the days of my youth."
Theron MacKay - Solomon Islands cruise, 1998
"Great trip to areas I was stationed in in '45. Great air force and army receptions in Okinawa. Bob Reynolds knows how to bring back the past in a most memorable and educational way! Wish I had more time to travel extensively with him…"
Robert and Lynn Browne - U.S. Army tour to Leyte/Okinawa, 1998

Jim Koslow makes a rubbing of his brother's name (Peter Koslow, 96th Div.) at the Okinawa Battle Monument. Tour Director Don Dencker on right (96th Div.)
"Thanks for the wonderful trip experience. We both came home feeling it was the best trip we had ever been on. You really went the extra mile…."

Charles and Audrey Weidler - U.S. Army tour to Leyte/Okinawa, 1998

Bob Reynolds, right, with members of the Leyte Landing Day group standing in front of MacArthur Memorial
(Photo by Gerald Graves)
"You opened up another interesting way to see and enjoy our world…"

Eugenia and Milton Wyatt - Aviation Buffs tour to England, 1998
"This was a go-go trip. Up early and out. Not a moment to spare. Bob was adamant in showing us all the features that were presented in the brochure."
William Kanellis - Aviation Buffs tour to England, 1998
"...wish to compliment you (Bob Reynolds) as a tour guide for giving us such a fantastic tour of London's VE Day celebrations... all the highlights surrounding this extremely important event... our heartfelt thanks for a very educational and sentimental experience, one we will never forget..."
Rober & Carol Olson, Danville, CA
VE-Day in London, 1995
"Bob, you and Ed planned an ambitious schedule and pulled it off. Well done, you get an A+. The choice of accommodations was excellent and the food left nothing to be desired."

Ray and Natalie Hall - Aviation Buffs tour to England, 1998

Members of our 1999 Guadalcanal/Solomons Island group on Plum Pudding Island where
Lt. J.F. Kennedy swam ashore from
his PT boat 109.

Bob Reynolds, President of Valor Tours, in Ste. Mère Église, where the 101st Airborne landed on D Day, June 6, 1944.(Photo by Alfred Evans)